Everyone who has been to a gaming convention/fair has probably seen chessex or q-workshop selling blank dice. I always wanted to use those blanks to create my own dice. Since I now own a lasercutter the time has come to finally manufacture some 😀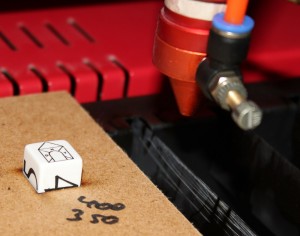 I used 16x16x16mm blanks which i got at this years RPC in Cologne. My lasercutter does not have any fixtures, rulers or clamping devices, so I needed to make my own. My simple fixture is a piece of 5mm HDF with a 16mm square cut out at an absoulte position. This allows me to align any futher engraving to those absolute coordinates.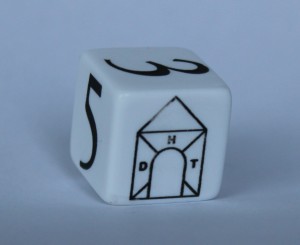 After engraving the only thing left to do was to add some contrast. I used black acrylic paint to cover the engraving. Its quite hard to apply the paint only to the engraved areas, so I decided to rub the paint into the engraved area and remove excess paint after waiting a few minutes for it to dry.
I think it worked quite well 🙂
Now i am looking forward to create one custom dice for each player of my RPG group with a symbol matching their char.